Charlotte Heating Repair
---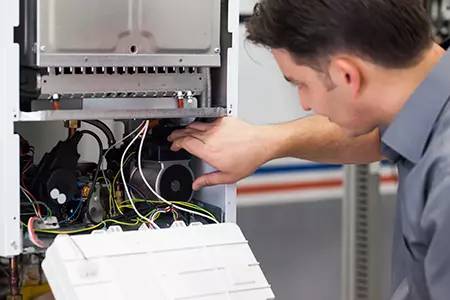 If you're like most people, you don't think much about your heating system until it starts to act up. But if you wait until something goes wrong to call a heating company, you could be in for a long, cold winter.
Brothers Heating Cooling Plumbing is the best choice for heating repair service in Charlotte. Our HVAC technicians are highly trained and experienced, and they can troubleshoot and repair any make or model of furnace or heater.
Signs Your Heating System Needs Attention in Charlotte, NC
There are several signs that you may need heating repairs:
Your heating bills are unexpectedly high
Your furnace or heater is making strange noises
There are visible signs of wear and tear on your furnace or heater
You notice that some rooms in your home are warmer or cooler than others
Your furnace or heater doesn't seem to be heating your home evenly
If you notice any of these signs, it's important to call a heating company right away. Ignoring heating system warning signs can lead to more serious problems, like a complete breakdown of your furnace or heater.
Charlotte Emergency Heating Service Technicians Standing By
Heating breakdowns happen, so our emergency heating repair service gets your gas furnace, gas pack or heat pump working like new in no time. Our heating maintenance service assures your heater is at its highest heating efficiency at the lowest energy cost. Brothers heating repair service is your greater Charlotte, NC area home heating and air expert for all makes and models.
Heating Repair Service Charlotte Homeowners Depend On
When you call Brothers Heating Cooling Plumbing for heating repairs, you can rest assured that our HVAC technicians will provide the highest quality of work. We'll troubleshoot the problem and make the necessary repairs to get your furnace or heater up and running again. And we'll do it all at a fair and competitive price.
How Charlotte's Climate Affects Your Heating System
The climate in Charlotte is classified as humid subtropical. This climate is known for hot summers, cool winters and high humidity. With regular drops below freezing during the winter and high humidity levels, it's important to have a functioning heating system. Heating can help to keep you comfortable during cold nights, but it also protects vital systems in your home. Here are a few ways that the Charlotte climate puts a strain on your heating system.
Freezing Temperatures
Each year, Charlotte gets nearly two months of temperatures that dip below freezing. The average daily temperature in winter is about 49 degrees Fahrenheit, which is cold enough to make you run your furnace. The colder it is, the harder your furnace has to work. Even if your system is appearing to work as it should, excessively cold temperatures can increase the likelihood of problems. Minor issues can turn into a breakdown after heavy use. Regular maintenance from the experts at Brothers can help you to identify these concerns before they get worse.
High Humidity
Although you may mostly think of your heating system as a way to change the temperature, you should know that it also controls the humidity in your home. Charlotte's climate is characterized by high humidity, which can be hard on your home structures and systems. A well-kept heating system maintains an ideal indoor humidity, which minimizes the accumulation of mildew or mold on your home surfaces, as well as preventing corrosion or rust on your furnace's parts. Heater repair services from Brothers can make it easier to maintain the right humidity in any season.
Snow and Ice Storms
Even if your system is in great condition for the season, the weather could change that in an instant. Snow and ice storms make it easier to lose power or sustain damage to the exterior components of your heating system. Even something as small as a frozen condensate drain line can bring your furnace function to a halt. Calling Brothers for Charlotte furnace repair is the best way to mitigate the damage and get the heat running again.
Hire Brothers for Expert Repairs
If your furnace is not working as it should, it's common to worry about the cost to fix it. Some homeowners try to make the repairs themselves, assuming that they can get the heat working again at a lower expense. A broken heating system puts your comfort at risk, but repairing it requires expertise that most homeowners don't have. Here are a few reasons that you should call Brothers when you need furnace repair in Charlotte, NC.
We Perform Quality Work
When you are dealing with a malfunctioning furnace, you need to know that the repairs you make will actually work. There are a variety of tasks that homeowners can do to help keep a furnace in good working condition, but expert maintenance and repairs are best done by the technicians at Brothers. We have the experience needed to inspect the system, find the causes of the problem, and make an efficient plan to fix it. We also have the equipment and tools necessary to carry out the repair.
We Provide a Better Long-Term Investment
DIY repairs are sometimes cheaper at the beginning, but hiring Brothers is the better long-term investment. When you think about furnace repair services, it's important to think about the work needed to create a lasting solution that preserves or extends the lifespan of the equipment. Trying to do the repairs yourself may not solve the problem, and it could cause damage to the equipment. In the end, you're likely to end up spending more money to fix a DIY job than you would to hire Brothers for a prompt solution.
We Follow Safe Practices
Your heater relies on different systems in your home to operate, and you may not have the experience needed to work with them safely. Furnaces require electricity, and many of them use natural gas or heating oil to generate heat. If you have to make repairs to the wiring or a fuel connection, you put yourself at risk for injury or illness. Our technicians have the proper training to work with these components, so that we can maintain a safe environment for your home while we attend to the problem.
We Make Heating Repair Convenient
Hiring Brothers for your heating repair is the most convenient option. Many homeowners have busy lives. They cannot spare the time it takes to try to assess a problem, learn how to fix it and carry out the repair. Calling us gives you the comfort of a predictable process with a solution that you can understand. Even better, you can rest assured that the solution is the right fix for the cause.
Don't Wait to Call for Heating Repair
It's common for homeowners to wonder when a minor problem with a heating system is a valid reason to call for repairs. If your system seems to be running, but not very well, you should consider it a sign that you need to get more information about the system's operation. There are a number of risks of postponing heating repair in Charlotte, NC, including your safety and your long-term investment in the equipment.
Efficiency
When your heating system isn't working properly, efficiency tends to be one of the first things to go. You might notice that your energy bills are going up, or that your furnace seems to be running constantly without effective heating. If you let it run in this state without addressing the cause of the inefficiency, it's likely that you will pay more to operate the furnace. Furnaces can show signs of malfunction for months before they completely break down, so waiting to act may cause you to lose more money than you expect.
Safety
Most furnaces are designed to prevent fires and other safety risks, but they depend on the function of the system. Malfunctioning parts may not be able to stop the system from operating unsafely, leading to a fire or backdraft. If you observe strange operation from your furnace, such as an unusual sound or smell, it's important to call our furnace repairman as soon as possible.
Expense
Ultimately, you want the best return on your investment in your home. Bigger problems with your heating system tend to cost more to fix. There's no guarantee that calling for emergency repairs will save you money, but you may take a financial risk by waiting on a minor issue. Something as simple as changing the furnace filter can make the difference between a system that works efficiently and one that breaks down.
Don't wait until your furnace or heater breaks down to call a heating company. If you need heating repairs in Charlotte, contact Brothers Heating, Cooling & Plumbing today by calling us at 803-805-5731.