CHARLOTTE HEATING MAINTENANCE
---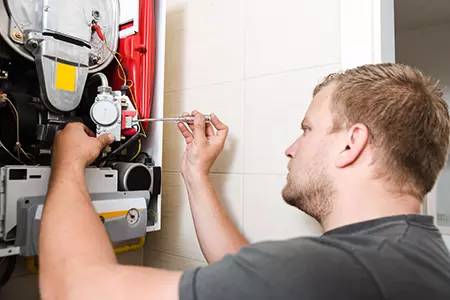 Getting your Charlotte heater checked regularly is the best way to extend its lifespan and ensure that it's operating efficiently. Our team of friendly experts has years of experience tuning up and repairing heating systems. The best way to avoid heating repair services is to schedule preventative maintenance on your heating equipment. And we can help!
At Brothers Heating Cooling Plumbing, our mission is to provide excellent maintenance and care to every heating and cooling system we inspect in the Charlotte, NC area. Having your furnace inspected and scheduling regular maintenance is the only way to ensure you avoid having to call for Charlotte heating repair. Get in touch today to schedule a heating tune-up now.
BENEFITS OF REGULAR HEATING MAINTENANCE SERVICE
---
"Isn't it costly to book heating maintenance?" It's much more affordable than waiting for an issue to arise! Here's how it helps:
KEEPS UTILITY BILLS DOWN
---
Regular furnace maintenance will ensure that your Charlotte, NC heating system is working efficiently, meaning that it's not using excessive energy to do its job. This drives down your energy bills.
PREVENTS PROBLEMS BEFORE THEY OCCUR
---
Waiting for your HVAC system to break down means you'll need costly repairs. Maintenance tasks like cleaning prevent this from happening.
EXTENDS THE SYSTEM'S LIFESPAN
---
A properly maintained HVAC system will last for years. By contrast, it could suffer a breakdown without maintenance within 10 years or so and need to be replaced. This is very expensive compared to booking regular heating maintenance.
Don't wait for the problems to start. You don't want to be caught without proper heating or cooling in the wrong season!
Call us today to learn more and book an appointment.
SIGNS YOUR HEATER NEEDS A TUNE-UP
---
When should you call a technician out for repairs? Here are some common signs you need a tune-up.
LOUD NOISES
---
Something isn't right if you can hear clunking or strange noises when you switch your HVAC system on. It's also annoying, and it's time to call an expert.
YOU HAVE TO TURN THE THERMOSTAT UP HIGHER
---
Your thermostat may need recalibrating, or the system might be getting old. Either case isn't ideal and calls for professional attention.
BAD SMELLS
---
If you notice odd smells when you switch the heating on, you need immediate assistance. Something might be burning that shouldn't be, which could also indicate carbon monoxide release.
Anything that doesn't seem "normal" is a bad sign. Get in touch to arrange an inspection.
WHAT DOES A HEATING SYSTEM TUNE-UP CONSIST OF?
---
When a technician visits, they'll perform these tasks:
Sweeping out the furnace to remove dust or debris
Recalibrating the thermostat
Checking for loose or rusting parts
Cleaning the ducts
Adjusting the fan belt tension
Contact us now to learn more.
THE IMPORTANCE OF HEATING IN NORTH CAROLINA
---
Even though the region isn't known for harsh winters, residents in North Carolina can still experience some cold temperatures. The coldest temperature ever recorded in the state was minus 34 degrees Fahrenheit on January 21, 1985, at Mount Mitchell. This was caused by a polar vortex that moved deep into the Southeast, which became known as "The Freeze of the Century." In Charlotte proper, the lowest temperature recorded was that same month, when the mercury dipped to minus 5 degrees Fahrenheit.
This is why furnace or heat pump maintenance is so important. Regular home heating maintenance can keep your system in good working order to run efficiently and not break down over time. It also helps keep your family safe by preventing carbon monoxide leaks.
CALL US TODAY
---
Heating maintenance can save you from needing to call out for emergency repairs and keeps you and your family safe in your home. Don't delay – call our expert technicians now to schedule service.