CHARLOTTE AIR CONDITIONING TUNE-UP SERVICE
---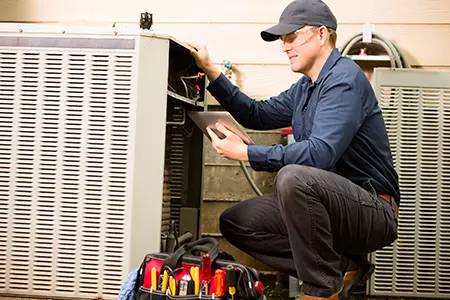 Brothers is proud to provide exceptional air conditioning maintenance service in Charlotte, North Carolina. We can keep any type or model of air conditioner operating like new, no matter the AC unit brand you have installed. Since our company opened in 1985, we've been offering highly personalized services. We will take care of your air conditioning unit for the duration of its existence.
Our Charlotte HVAC tune-up service is intended to improve the energy efficiency of your air conditioner. Our repairs may also extend the life of your equipment. Our experienced experts will strive to achieve every tune-up successfully the first time.
TRUSTED CHARLOTTE AC TUNE-UPS
---
Our air conditioning maintenance company's technicians will clean your Charlotte air conditioning system completely. They'll make sure that any dirty air filters are changed and that the safety mechanisms are all in good working order. In addition, we'll lubricate any moving components and motors to help cooling systems last longer.
AC MAINTENANCE TECHNICIANS WILL:
---
Optimize energy efficiency through calibration
Ensure your AC is working the way it should
Clean system components
Investigate potential issues
After your AC system has been tuned up, we'll provide you with an accurate and thorough evaluation. Our crew can be trusted for honest feedback and useful suggestions.
WHY IS AN AC TUNE-UP NECESSARY?
---
Several different parts of the HVAC system are prone to rust. Instead, check if your air conditioner works well and don't wait until the air conditioner breaks down for weeks. During the inspection, you can make sure that the unit has been tuned periodically so that the unit can continue to operate as it was designed. The best cooling system requires regular maintenance. The lack of efficient AC units causes increased electrical charges as well as inconsistent cooling.
CHARLOTTE AC COIL CLEANING
---
Outdoor coils can also become clogged with dirt, leaves, mold, and other particles. Outside coils might be blocked by dirt, leaves, fungus, and other debris. Over time, HVAC systems with clogged outdoor coils' lives spans are shortened. They also need more attention during maintenance and upkeep over time.
Cleaning your air conditioner's coils on a regular basis is important for optimizing its performance. All coils require cleaning and blockage removal to achieve maximum HVAC efficiency. Brothers provides services for cleaning and removing undesirable deposits on all coils. These residues will decrease the systems of mechanical life. It also saves money by increasing efficiency, as it increases performance. In other words, your system will run longer and cost less to operate.
Brothers Air, Heating and Plumbing employs AC tune-up experts. We have been serving Charlotte for well over 30 years. We provide reasonable pricing and highly trained, courteous staff. When coils are not cleaned, they can lead to additional issues. Cleaning coils in your air conditioner system will help your HVAC system operate more efficiently.
HOW OFTEN SHOULD I HAVE MY CHARLOTTE AIR CONDITIONER SERVICED?
---
Every air conditioning or heat pump must be checked regularly. A registered HVAC engineer can perform the maintenance Typically every year. During maintenance on older air conditioning systems, the frequency of repairs can rise. During the warm seasons your cooling unit should be inspected twice each year. You need an AC repair expert in a new location. Call us for AC Repair in Charlotte.
SCHEDULE AIR CONDITIONING MAINTENANCE TODAY
---
Our team of fully qualified, bonded, and insured experts are dedicated to providing complete client satisfaction. We'll go above and beyond to fulfill any of your unique heating and cooling equipment requirements. You may rely on us to handle every aspect of the process. We will not take shortcuts in any area of our job.
Brothers' experts can handle any HVAC tune-up in Charlotte, NC competently. They're continuously trained to stay up with the industry so that you don't have to worry about it. Our clients' best interests are always taken into account.