CHARLOTTE COMMERCIAL PLUMBING SERVICE
---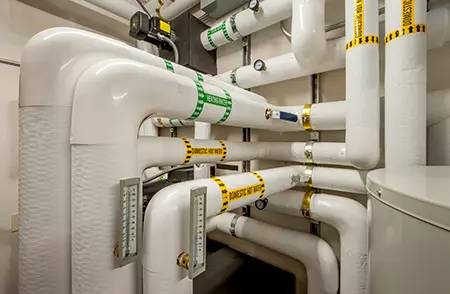 If you're looking for a Charlotte, NC commercial plumber to handle your commercial plumbing needs, Brothers Heating Cooling Plumbing is your plumbing company of choice. Our professional plumbers are trained to handle all commercial emergency plumbing services and new installation of your construction projects.
Plumbing issues at your place of business can be financially devastating due to expensive repairs and loss of revenue from customers. When you're choosing a professional repair and maintenance company to handle the job, you want to select commercial plumbers with tons of experience dealing with the issues that are unique to commercial buildings.
Brothers Heating Cooling Plumbing offers affordable, knowledgeable, and high-quality services to businesses in the Charlotte area. We guarantee that any commercial plumbing service you need for your facility's pipes, appliances, or water supply will be solved efficiently.
COMMERCIAL PLUMBING SERVICES
---
Our highly trained and friendly experts can tackle any plumbing needs you may have, including:
Clog removal
Sewer line, sump pump, and water heater services
Pipe maintenance
Water line services
Installations and upgrades
Backflow prevention
Water pressure issues
Commercial drain cleaning
No matter what's going on with the pipes or appliances at your commercial facility, we'll fix the problem and get you back to business as soon as possible.
TYPES OF BUSINESSES WE SERVICE
---
We offer top-notch commercial plumbing service to businesses of all kinds in the Charlotte area, including:
Business offices
Hotels, resorts, and spas
Restaurants and bars
Sports arenas and venues
Malls and shopping centers
Schools, community centers, and retirement homes
Gas stations
Manufacturing plants
Airports
Medical offices and hospitals
It doesn't matter what kind of business you're running. Our experts are trained and equipped to solve your water supply issues at the lowest possible inconvenience to you. Now, you can focus on providing top-quality services and products to your customers.
COMMON COMMERCIAL PLUMBING PROBLEMS
---
Sometimes, being prepared for the worst can be beneficial, especially when anticipating the water supply and pipe maintenance needs of your business. Some of the most common problems we see in commercial facilities are:
Faucet leaks
Drain clogs
Faulty, chronically running, or broken toilets
Water temperature problems
If you've noticed any of these issues at your place of business, get them looked at by a professional right away. You don't want a seemingly small problem to develop into a huge and costly complication later on.
BRING IN THE BEST COMMERCIAL PLUMBING SERVICE IN CHARLOTTE
---
Don't hesitate to fix any outstanding pipe, water supply, or appliance issues at your place of business. Schedule your commercial plumbing service and maintenance with Brothers Heating Cooling Plumbing today.
HOW CHARLOTTE'S CLIMATE AFFECTS YOUR COMMERCIAL PLUMBING
---
Living in Charlotte means experiencing hot, humid summers and mild winters. The average temperatures can hit the lower 90s during the summer and dip into the low 40s in winter. The city also experiences frequent rainfall, with an average of 43 inches falling each year.
The extreme changes in temperature and precipitation can create problems for your commercial plumbing system. These include increased strain on pipes and equipment when the weather is hot as well as blockages and overflow during periods of heavy rainfall.
This is why working with professional commercial plumbing contractors is essential. They bring the experience and tools necessary to identify and handle any issues before they have a chance to become major problems. With regular maintenance and inspections, you can help prevent costly repairs and downtime for your business, as well.
If you try to fix plumbing problems on your own or ignore routine maintenance, you may be making your issues worse. This could lead to extensive damage to your property and higher costs in the long run. Although the climate in Charlotte can be tough on your plumbing, choosing Brothers means you'll be working with one of the best local commercial plumbing companies. We understand the local conditions and mitigate your risks to keep everything running as smoothly as possible.
FREQUENTLY ASKED QUESTIONS
---
What is commercial plumbing?
This refers to the specialized services required for commercial buildings such as offices, hotels, and shopping centers.
Why is it important to hire a professional for plumbing services?
The systems in your commercial building are more complex than those in the average home. They require specialized knowledge and equipment to ensure they are installed, maintained, and repaired properly. Our commercial plumbing contractors know how to keep your systems operating as efficiently and effectively as possible.
Can I hire a residential plumber for my commercial needs?
We don't recommend calling a residential plumber because your needs are vastly different as a commercial property owner. You need someone who has the right training and expertise to handle your plumbing systems.
What are some of the most common commercial plumbing problems?
These include clogged drains, leaking pipes, water pressure issues, and malfunctioning fixtures.
How often should I schedule plumbing maintenance?
We recommend scheduling commercial plumbing maintenance at least once a year.
What are the benefits of preventative plumbing maintenance?
These services can help you avoid and prevent major issues, prolong the lifespan of your equipment, and save you money in the long run.
Can I perform my own plumbing work?
We do not recommend performing your own commercial plumbing installation, repairs, or maintenance. Professional plumbers have the experience needed to handle these tasks the right way.
What should I look for when hiring a plumber?
You need someone with experience, proper licensing and insurance, and good reviews from prior customers.
What should I do in a plumbing emergency?
Call our experts for commercial plumbing repair as soon as you notice any issues with your plumbing.
How much do commercial plumbing services typically cost?
The cost will depend on the scope of your project and the plumber's expertise. We recommend getting multiple quotes before making a decision.