CHARLOTTE PLUMBING REPAIR
---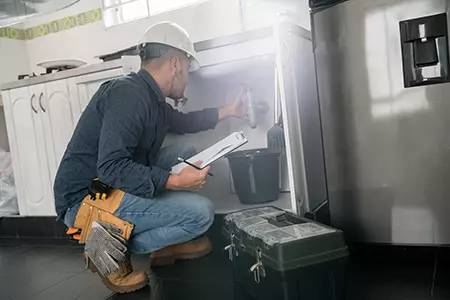 Did you know that Brothers Heating Cooling Plumbing, the name you've counted on and trusted for all of your home heating and cooling needs, can also take care of all your plumbing needs?
We fix or install toilets, kitchen & bath faucets, garbage disposals, tank and tankless water heaters. We've been licensed plumbers for many years—we bring you the same level of expertise and professionalism you've come to trust with Brothers. All of our Charlotte plumbing repairs are guaranteed and include a FREE whole house plumbing check!
Brothers has the right Charlotte plumber at the right price right now. Call us when you need us 877-301-7483 from 8 to 8  7 days a week.
From new water heaters, drain cleaning services, water softener replacement and garbage disposals repairs to fixing leaky plumbing fixtures or clogged toilets to a complete home plumbing inspection, our Charlotte plumbers offer fast and effective solutions.
Brothers offers expert toilet repair and other plumbing services for all your needs, including those associated with clogged drains. Our team of skilled experts is ready to assist you at any time of day or night, whether it's a little, inconvenient blockage or a complete system replacement that requires our expertise. We understand the frustrating setbacks that Charlotte plumbing problems cause, and we are committed to resolving your issues so that your household can get back to complete efficiency.
OUR CHARLOTTE PLUMBERS CAN TACKLE
---
MAIN LINE CLEANING
---
You won't be able to use your sewage system after it's clogged. You also have a stinky situation in your house. Brothers can unclog your Charlotte, NC sewer line so that water may flow again. We offer drain cleaning and hydro-jetting services that don't require us to dig into your yard to remove blockages.
GAS LINES
---
If you need a new gas line put in or an old one fixed, Brothers will be there for you.
WATER HEATERS
---
Brothers provides traditional tank and tankless systems, as well as prompt repair, maintenance, and replacement.
SUMP PUMPS
---
We'll make sure that your sump pump is doing all it can to keep your house safe. Whether you need new sump pump installation or want expert help with maintenance and repairs, we'll guarantee that your home's sump pump is giving its best effort.
REPIPING
---
Once a year, we recommend that you check your plumbing. We'll inspect your vent stack and replace galvanized steel and cast-iron stack pipes that have rotted, burst, or otherwise outlived their expected life span to restore full functioning to your plumbing system during one of our professional plumber's visits.
KITCHEN AND BATHROOM PLUMBING
---
Brothers is your one-stop shop for all of your house's renovation needs, including plumbing maintenance and installations. You can trust us to provide you with the best services at the most affordable prices available in Charlotte!
TRENCHLESS SEWER LINE REPAIRS
---
Trenchless sewer repair allows homeowners to fix sewage problems without having to dig up their yard. We offer two alternatives for trenchless sewage repair (pipe bursting and slip lining) to help you fix your blocked sewer without harming your plants or grass.
WATER TREATMENT
---
Stop putting up with hard water. Brothers provides water softening, filtering, and descaling services to keep your home's water clean and delicious.
SIGNS YOU NEED A DEPENDABLE CHARLOTTE PLUMBING COMPANY
---
Emergency plumbing services are required when you least suspect it. It's good to have experienced plumbers at the ready to tackle any emergency plumbing issues. At Brothers, we often get residential and commercial customers calling for emergency plumbing services whenever the following situations arise:
NO HOT WATER
---
The cause of a cold shower is frequently an issue with your hot water heater. First, make sure there is electricity going to your electric heater in the breaker box. If you hear rattling or the water heater is getting a power source from somewhere else, call a professional plumber.
CLOGGED DRAINS OR TOILETS
---
Is your plunger getting used more often than usual? Is there a clogged kitchen or bathroom drain in your Charlotte house once again? There may be an obstruction deeper down the plumbing system that you can't access, and attempting to do so could push the blockage even farther down.
SMELL OF GAS
---
A gas leak is one of the most hazardous plumbing difficulties that a homeowner can have. If you detect gas, get out of your house as soon as possible and call an emergency plumber right away. Your Charlotte, NC plumber will arrive shortly afterward to see what's going on.
INDOOR FLOODING
---
Whether it's a water heater, sewage backup, or a clogged toilet that caused the flooding, any of these circumstances can lead to an emergency in which prompt assistance is required.
WATER LEAK REPAIR
---
For weeks or months, pipes, water heaters, water mains, sewers, or any number of plumbing-connected areas in your home might leak before you notice. Leaks in the plumbing can manifest themselves openly or be hidden inside your property, symbolizing deeper concerns. When you have an issue with a leak within your house, it's important to call for plumbing repairs fast.
WET YARD
---
Do you see moist spots appearing in various areas of your yard? If this is the case, it's likely that your major water supply line is leaking onto your grass. A rotten stench indicates a leak in your sewage system. An emergency plumber may immediately assess the extent of a leak and determine whether significant repairs or excavation are required.
We service the entire Charlotte region, including nearby Bessemer City, Cherryville, Chester, Clover, Cramerton, Dallas, Lancaster, Marvin, Rock Hill, Unionville, Wadesboro, Wesley Chapel, and York.