HVAC INSTALLATION SERVICES
---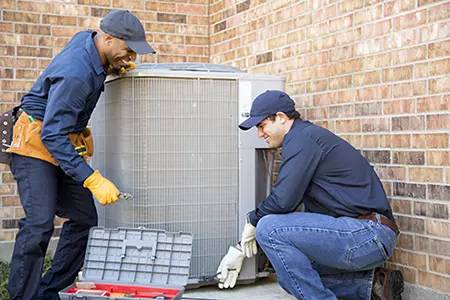 When it is time to install a new HVAC system, you need to know that you will get the result that you expect. At Brothers, we have helped homeowners in Charlotte with HVAC installation for more than 30 years. We can install a variety of HVAC equipment types, including:
Furnaces
Heat Pumps
Air Conditioners
Packaged Systems
You deserve to have an up to date HVAC system that maintains an ideal level of comfort in your home year-round. Contact us to schedule HVAC installation service or to find out more about our low-price guarantee.
PROFESSIONAL HVAC INSTALLATION
---
HVAC replacement can be a complicated task, requiring the experts at Brothers to ensure that everything works as it should. Your home comfort is an investment, and your hard-earned money ought to provide you with reliability for many years to come.
Most manufacturers require professional installation in order to honor the warranty. For your safety, it is an obvious decision. Installing the equipment often involves working with fuel, high-voltage electrical wiring or refrigerant. Hiring our HVAC installers to do the work is a convenient way to ensure that you get the best possible result, without putting yourself or your family at risk.
WHAT TO EXPECT FROM HVAC INSTALLATION
---
The HVAC installation process can take up to a few days from start to finish, depending on your schedule and a few other factors. At the start, you request a free quote and we send a qualified technician to your home. Our technician talks to you about your needs, evaluates your existing equipment and your home, and makes recommendations about the best choices.
Once you decide on a unit, we can schedule a convenient time for the installation. Installation can take as little as a few hours, and you should feel the benefits of your new system before you know it.
BENEFITS OF HVAC INSTALLATION
---
Hiring our HVAC installation company to improve your home comfort carries plenty of benefits. Proper installation from our technicians can help ensure that you get the best efficiency and lifespan from the equipment.
By comparison, a poor installation is associated with all kinds of problems, such as a higher likelihood of repairs, lower efficiency, more energy consumption and a shorter lifespan. It would be much easier to hire our experienced, vetted technicians to complete the process according to specification, while you sit back and enjoy the results.
CALL BROTHERS TO SCHEDULE HVAC INSTALLATION
---
At Brothers, we take your needs seriously, and we put your investment first. You may be pleasantly surprised by our care for your satisfaction, from the first call to the last minute of the service we provide. We aim to keep your home clean as we work, and our technicians maintain a professional demeanor throughout the process. We are happy to answer your questions about the products we install, the process we intend to follow, and our warranties and satisfaction guarantees.
To learn more about our services or to schedule an estimate for the HVAC installation that Charlotte homeowners trust, contact us today.