CHARLOTTE CLOGGED DRAIN REPAIR
---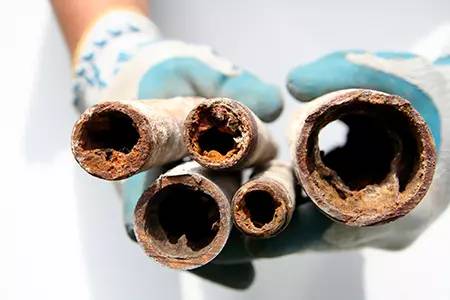 Are you looking for Charlotte drain cleaning services you can count on? Is your garbage disposal clogged or bathroom drains have foul smells? Brothers Heating Cooling Plumbing provides drain cleaning services in Charlotte to help clear drain clogs and prevent clogged drains.
But, how exactly does drain cleaning services work, and what does the process entail? Learn more about the available clogged drain repair services from our Charlotte plumbers.
HOW DO DRAIN CLEARING SERVICES WORK?
---
Drain Cleaning focuses on removing blockages or repairing ineffective drain lines. Most residents have a "clean-out" or a two-way clean-out leading to the city waterline. These water lines can experience blockages for several reasons.
If you neglect routine drain line maintenance, you could end up with serious damage to your drain line. You must consult with an expert plumbing team to help diagnose and repair your equipment.
Clogged drain repair methods, such as hydro-jetting, are used to clean out your sewer lineswhen it stops functioning due to this blockage.
Thankfully, Brothers Heating, Cooling, and Plumbing in Charlotte, NC, has the machinery to help you break down the debris.
SIGNS YOUR CHARLOTTE HOME NEEDS DRAIN CLEANING SERVICE
---
WATER BACKING UP
---
If you see or hear your toilet's water bubbling or experience standing water in the shower, it's time for a consultation. Keep an eye out for backing up in the sink, bathtub, or commode as well.
SLOW DRAINING BATH OR SINK
---
If you see slow drainage in the kitchen sink or bathroom drains, it may point to an issue of blockage or overflow.
BAD ODOR
---
When there is a blockage in drains, it might emit a bad smell. This indicates that there is waste settling in the drainage areas. These smells can come from inside and outside.
POOLING WATER
---
The blockage can also cause leakage. So, if you see puddles of water scattered across various water sources, this can indicate water leaks from a blocked drain. You can also spot mold forming in these areas as well.
You'll begin to notice these signs increasing in severity as the issue persists.
WHAT YOU SHOULDN'T PUT DOWN YOUR CHARLOTTE DRAINS
---
Any drain line around the house is susceptible to blockage or damage. So, users must exert caution when dealing with any water source around the house.
Any non-biodegradable items like toilet paper, in excess, are notoriously bad for your mainline. You'll also want to avoid substances like grease or anything corrosive that may cause damage to the pipeline.
These substances can not only erode your pipes but can congeal and cause blockages.
WHAT CAUSES CLOGGED DRAINS?
---
General misuse of your drain-line systems can cause damage, but natural issues such as shedding and waste can also cause problems. For instance, if you have a lot of hair, it can get caught in the drain and cause a stoppage.
Most items or debris in excess can overwhelm the pipes. If you come back from the beach or camping and track heavy sediment, it can cause blockage.
Make sure you have safety measures to help prevent these drain blockage incidents.
TYPES OF DRAINS OUR PLUMBERS CAN CLEAR
---
There are various drains connected to your appliances and plumbing systems. Brothers Heating, Cooling, and Plumbing can help you service many types of drains, such as:
Bathroom Sinks - Sometimes, the U-shaped pipe known as a P-Trap can get clogged with various substances.
Kitchen Sinks - Soaps, Grease, and Fats can encounter build-ups.
Floor Drains - There may be a drain leading to the mainline in basements and other areas.
Main Sewer Line - The entire pipeline from your house to the city or local sewer system may require clearing.
Not sure if your problem is something we can solve? Give us a call, and we can provide more information about what our plumbing experts can do for you.
WHY TRUST BROTHERS PLUMBING EXPERTS?
---
At Brother Heating Cooling Plumbing in Charlotte, North Carolina, we offer competitive rates and customer satisfaction. We intend to build trust-based relationships with our customers and show results when offering our services.
Contact our team to schedule your next plumbing consultation with our experts to get your pipes working like new.
MAINTAINING YOUR PLUMBING IN CHARLOTTE'S CLIMATE
---
The humid and hot summers, cool winters, and high annual precipitation in Charlotte can wreak havoc on your plumbing, especially your drainage system. High temperatures can cause pipes to expand, which makes them more likely to crack or leak. In addition, regular rainfall causes soil to shift, increasing the risk that you will need pipe unclogging service or repair to your sewer line.
If you notice a problem with your drains, you're better off calling Brothers instead of attempting a solution on your own. Professional service makes a better investment than trying a DIY fix, only to realize that you damaged the pipes or pushed the clog further down the line. When you call for drain clearing service, our blocked drain plumber can determine the source of the clog and remove it. We provide the equipment necessary to isolate the causes and provide an effective, lasting solution. Our plumbers can also keep your drains running well and make recommendations to help you avoid problems in the future. To learn more about our drain services or to schedule an appointment with our drain clearing contractors, contact us today!
FAQ
---
What causes clogged drains?
Your drains can accumulate clogs for a variety of reasons. The most common causes include accumulation of hair, debris, solidified fats, and food waste. Changes in weather or seasonal climate can trigger blockages and leaks or worsen existing problems in your sewer line.
How frequently should I schedule drain cleaning?
If you want to avoid problems with your drains, you should consider calling our plumbers to schedule a regular drain cleaning service. We can help you determine the best frequency, based on your plumbing and household needs.
When should I call for drain clearing?
You might not need clogged drain service for every slow drain or clog. If a simple attempt to clear the clog with a plunger does not solve the problem, or if you notice gurgling or foul odors, you should request assistance.
How does a clogged drain affect my home?
Persistent drain clogs can cause several negative effects for your home, including leaks, excess water consumption, burst pipes, and water damage. Even a minor clog can turn into a serious problem if you don't resolve it promptly.
Can I DIY clogged drain clearing?
If you have a plunger and know how to use it, you might be able to resolve simple clogs that are close to the drain. Beyond this task, DIY drain cleaning can cause damage to your plumbing. Store-bought drain cleaners can corrode your pipes.
How do I select a plumber for drain cleaning?
When you start searching for clogged drain repair service, you should choose expert plumbers with a record of quality work. Read reviews and ask about licensing and insurance. These steps will help you feel more confident in your decision.
Why should I hire Brothers to clean my drains?
Calling Brothers to address your drain clogs provides you with multiple benefits. We can ensure that we address the cause of the clog and reduce your risk of needing emergency plumbing repair for the problem.
How does a professional drain cleaning work?
As professional plumbers, we use a variety of tools to find the clog and confirm that we are able to remove it. These tools include drain augers that vary in length, camera inspections, and hydro jetting. We can solve the problem without causing damage to your pipes.
Does drain cleaning prevent future clogs?
Keeping your drains clean can minimize the frequency and severity of clogs. By reducing the accumulation of debris, minerals, or fat in your pipes, water and other waste passes more freely.
What does drain cleaning service cost?
The price for drain cleaning depends on the number of drains and the extent of the clogs. If you have significant damage to your plumbing as a result of the clog, you may pay more than you would for a simple clog removal.
Why shouldn't I unclog my own drains?
If you can't remove a clog with a plunger, other DIY methods are more likely to fail. Harsh drain cleaners increase the chances of clogs in the future, and you could injure yourself trying to use them.