CHARLOTTE GARBAGE DISPOSAL REPAIR
---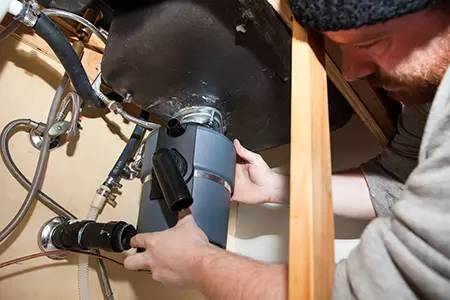 Are you looking for a garbage disposal repair in Charlotte? A jammed garbage disposal or other issues with your kitchen sink are undesired and need immediate attention from a professional plumber specializing in garbage disposal repairs. That's where Brothers Heating Cooling Plumbing comes in!
Our garbage disposal repair services are second to none. Whether your existing unit needs repairs or you're looking to install a new garbage disposal, trust the plumbing services at Brothers.
Garbage disposal problems can derail any kitchen. While you may be incredibly conscientious when it comes to preventing food from going down your drain, there will always be some that slip through the gaps. And you know what that leads to? Clogged up pipes, and nobody wants that.
A garbage disposal shreds food for you, so it's small enough to pass through your plumbing system with no problems. Which is why you probably don't realize how much you rely on it until it breaks.
COMMON GARBAGE DISPOSAL ISSUES
There are plenty of common issues that can cause your garbage disposal to malfunction, some of which include:
YOUR UNIT WON'T TURN ON
If your unit refuses to work even when you've done the classic 'turn off and on again' ritual or reset it, it could mean it's burnt out.
JAMMED DISPOSAL
If it still won't turn on or the unit is making a humming sound, it could mean something is jammed inside. 
IT IS SLOWLY DRAINING
A functioning unit should work very quickly. If it takes longer to grind up the food, it could mean the blades are dull, or there is a clog further down the pipe.
IT HAS A FOUL ODOR
You may need a garbage disposal repair if unpleasant smells are coming from your unit.
GRINDING NOISES
Grinding noises could mean some parts are moving incorrectly or something is stuck inside the unit.
IT IS LEAKING
The extent of the problem depends on where the leak is coming from. Usually, it's because an O-ring needs tightening or replacing. More severe problems occur if the leak is coming from the sink flange. Calling us for garbage disposal leak repair is your best option.
WHAT CAN I PUT DOWN THE GARBAGE DISPOSAL?
Items that are safe to put into your garbage disposal:
Ice cubes
Liquids and soft foods
Citrus rinds (these also benefit the equipment due to the acidity cleaning the pipes!)
Cold water
Dish soap
Items that are not safe to put into your garbage disposal:
Bones
Eggshells
Celery
Coffee grounds
Grease
Pasta and bread (they absorb water and expand)
Fruit pits
Potato peels
GARBAGE DISPOSAL INSTALLATION SERVICE
Many people only realize how much they need a garbage disposal unit once they get one. When you install one of these units, you'll notice you spend much  less time scraping food into the garbage or picking soggy bits from the drain. Essentially, they make your kitchen life a lot easier.
SCHEDULE A SERVICE
If you've already got one of these trusty units but think it could do with some maintenance, why not schedule a service with one of our trained technicians? After expert garbage disposal repair, your unit will be as good as new in no time!
FREQUENTLY ASKED QUESTIONS
My garbage disposal is making a strange noise. What should I do?
When your disposal starts making strange noises, it could be because of several issues. These can include worn-out blades or  loose mounting. It's best to call our professional experts for a comprehensive diagnosis rather than try to fix your garbage disposal yourself. 
My garbage disposal won't turn on. What could the problem be?
There are several reasons why a disposal won't turn on when you flip the switch - these range from simple electrical issues to  more complicated mechanical problems. Call us to have your unit inspected to prevent further damage to your system. 
Can I use chemical drain cleaners to unclog my garbage disposal?
Most commercially available drain cleaners use harsh chemicals that can harm your disposal's blades and motor. It's better to avoid using these altogether and contact  our team for professional help. 
Why does my garbage disposal smell bad?
Foul odors from your garbage disposal could result from food particles trapped in the unit, a buildup of harmful bacteria, or something else. Cleaning it out yourself can be dangerous and may not even address the problem. The best action is to call us to properly clean and disinfect your disposal. 
Is it safe to put  my hand into the garbage disposal to remove an object?
Under no circumstances should you ever attempt to pull something out of your garbage disposal using your hands.this can result in serious injury, so trust our professionals to handle the problem as safely as possible and repair any damage. 
How much will my garbage disposal repair cost?
How much your repairs will cost can vary depending on the severity of your issues. When you call us, we will provide you with an accurate estimate, so you'll know what to expect. 
Can a malfunctioning garbage disposal be repaired, or will it need to be replaced?
Most of the time, a garbage disposal that won't work properly can be repaired by a trained professional. However, if you try to fix it yourself, you might cause more damage, ultimately needing a complete replacement. 
How often should I have my garbage disposal serviced?
We recommend having your unit serviced at least once a year to ensure it continues functioning as it should. 
What should I do if my garbage disposal is leaking?
Leaks could indicate many problems, including damaged seals and cracked housings. Calling our professionals is the best choice to fix a leaking garbage disposal. 
Can a professional repair my garbage disposal quickly?
Professional plumbers can often  fix your disposal quickly and efficiently, so you can get back to your normal routine as soon as possible. Trusting Brothers to handle any issues with your garbage disposal means you can count on receiving the best and most efficient service for this or any other type of plumbing repair.  
CALL NOW TO SCHEDULE SERVICE